EXHIBITOR RESOURCES
WHY EXHIBIT
The Exposition offers an excellent opportunity to learn about the latest advances in technology through an interactive approach with attendees. Participating industry will showcase its products and services among key decision makers within the DoD from the Fort Liberty area. The Exposition supports the Symposium theme, "Data at the Helm: Steering the Future of National Security", through demonstrating new, innovative ideas and sharing best practices that promote valuable results to technology challenges faced by our military today.

*New for 2024* Resource & Career Fair- February 21, 2024- 10am-4pm- Iron Mike Conference Center. Contact Diane Dodson ddodson@eventpower.com or Erin Ong eong@eventpower.com to rent a table.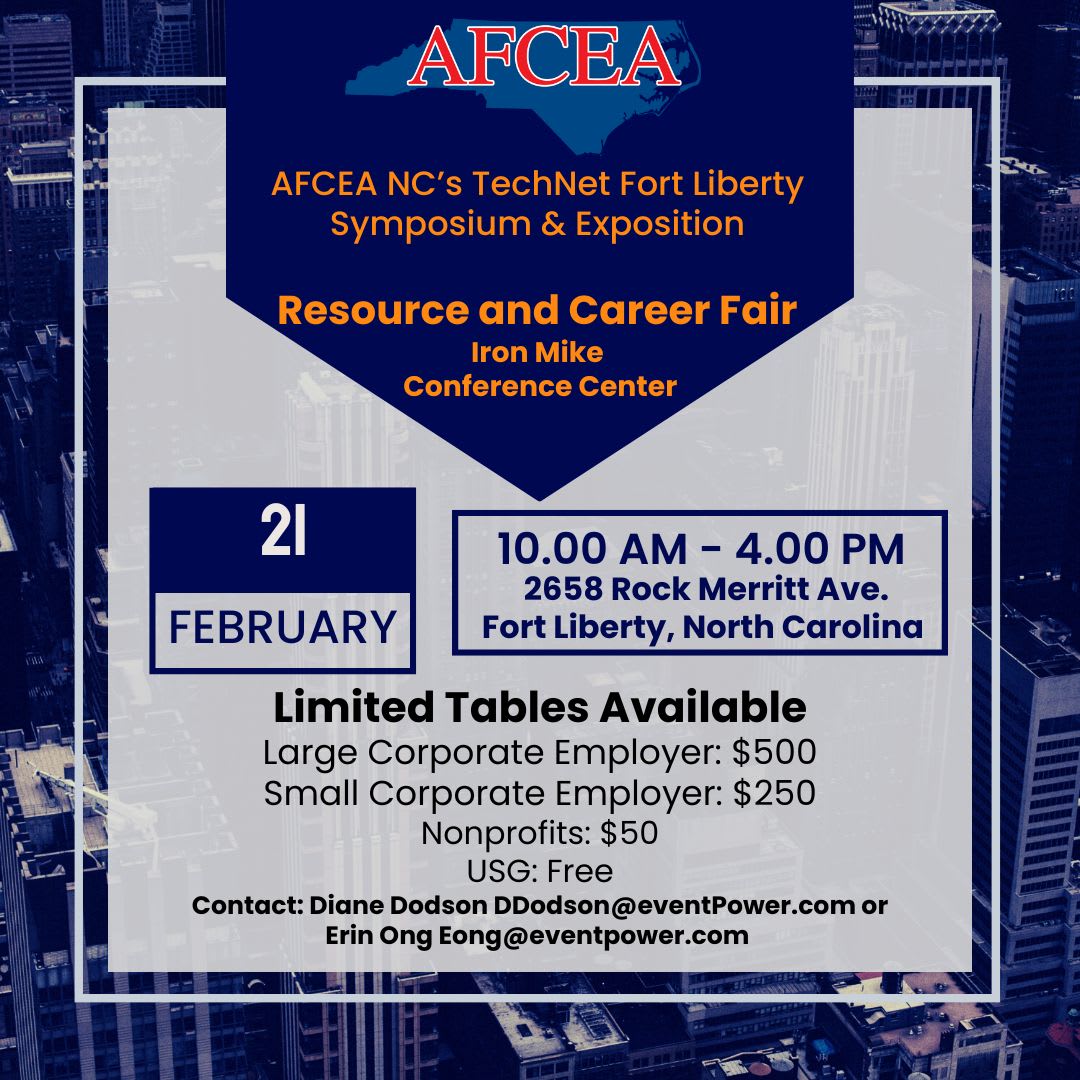 ---
EXPOSITION HOURS
*New for 2024* Resource & Career Fair (Lafayette 1 - 2)

Wednesday, February 21, 2024
Set-up | 8:00a.m. - 10:00a.m.
Career Fair Hall Open |10:00a.m. - 4:00 p.m.

---
Exposition Hall Setup
Wednesday, February 21, 2024
Exhibitor Set-up | 8:00a.m. - 5:00p.m.

---

Thursday, February 22, 2024
Expo Hall Open | 8:00a.m. - 5:00p.m.

---

Friday, February 23, 2024
Expo Hall Open | 8:00a.m. - 12:00p.m.
Exhibitor Breakdown | 12:00p.m. - 5:00p.m.
Early teardown is not permitted and will result in a $1,000 fine to any company who disregards the posted teardown time.

EXHIBITOR TRAVEL
See the Travel page for complete instructions for making hotel reservations and travel plans.

EXHIBITOR KIT AND SHIPPING
Official Decorator: Heritage Exposition Services
To view the Exhibitor Kit, click the link button below.

Once you are contracted to participate in the 2024 AFCEA TechNet Fort Liberty Symposium & Exposition you will be provided a link to your company portal. In your company portal you will be able to update your company overview that will be included in the printed program guide, register your staff and update other relevant information.

Questions Concerning Exhibitor Kit and Booth Orders: Contact Heritage Exposition Services at (800) 360-4323 or exhibitorservices@heritageexpo.com.

Shipping: Do not ship directly to the hotel. Please use the shipping forms that Heritage supplies in the Exhibitor Kit.

REQUIRED EXHIBITOR INFORMATION DEADLINE
Deadline: January 30, 2024

Company Logo: Provide a color logo in .eps format (with fonts and artwork outlined). The logo will be used in the conference program guide and event promotions (when possible). We will also accept .tiff files (300 dpi or higher) if an .eps is not available.

Company Description: A brief description of your company at 60 words or less and web address.

Contact Information: Name, phone, and email address.

SPONSORSHIP AND ADVERTISING
Sponsorships: Complete sponsorship descriptions and pricing are listed on the Exhibitor Prospectus.

Advertising: Increase your company's exposure by placing a display ad in the onsite event program guide that is distributed to all attendees. Please Note: If you contract for an ad but do not submit your ad artwork by the due date, your company name (or logo, if provided) and booth number will be listed in its place.

Ad Art Deadline: January 30, 2024
Ad Options and Pricing: Click Here
Ad Artwork Sizes and Guidelines: Click Here

LEAD RETRIEVAL SERVICES
Lead Retrievals are available for rent. Scanned data will include all contact information the attendee provides during registration inclusive of email addresses (when provided).

Cost to Rent:
First App Download: $295
Each Additional App Download: $30
Rent Device from eventPower:: $395
Reservations can be made through your exhibitor portal.

For questions regarding LRUs, please contact Katie VanTasel at kvantasel@eventpower.com.

RAFFLE DRAWING
Don't miss out on this great way to interact with attendees. Donate one or more raffle prizes to receive recognition in the Symposium program guide and during the raffle drawing. Companies may donate training courses, software, electronic devices, shirts, and other promotional items.

Contact Katie VanTasel at kvantasel@eventpower.com if you are donating an item or items so we can promote your company name/logo in the event program guide as a raffle sponsor.

EXHIBITOR BADGE REGISTRATION
Everyone must register to receive the appropriate Symposium badge.
Complimentary Exhibitor Badge Pre-Registration Deadline: Monday, February 19, 2024

Complimentary Exhibitor Badges: Each contracted company receives two FREE expo personnel/staff badges. The exhibitor badge covers food/beverages served INSIDE the expo area except for cash bars during receptions. Food/beverage quantities are limited based on the number of attendees/exhibitors and once consumed are not re-ordered until the next scheduled event. Closer to the Symposium you will receive a link to register your exhibitor personnel.

Complimentary Exhibitor Badges must pre-register online and cannot be used onsite.

Additional Exhibitor Badge Fees
Advanced: $25
Onsite: $50

How to Register as an Exhibitor: Booth personnel registration is not available on the Symposium website. eventPower must receive an exhibit space contract from a company before exhibit booth personnel can register. After receiving an exhibit space contract, eventPower will send the point of contact who signed the contract an email that contains a booth personnel registration link. Please contact the person in your company who signed the exhibit space contract for the link.

Booth Staff Registration Payment: Credit card payments may be made through the registration link that will be emailed to you. Registration fees not collected through the website may be paid by either cash or credit card when the exhibitor picks up his/her badge.

POST ACCESS
Click here to learn about how to obtain a visitor's pass for Fort Liberty.

EXHIBIT TEAM
Katie VanTasel
Exhibit Hall Manager, eventPower
kvantasel@eventpower.com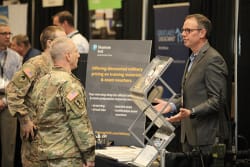 Event Details
Dates
February 21 - 23, 2024

Location
Fayetteville, NC

Sign up for Conference Updates