REGISTRATION
EARLY BIRD FEES
Military/Government Attendee: FREE (ID required at on-site registration)
Retired Military Must Register at the Industry Rate: $195.00
Non-Government/Industry Attendee: $195.00
*New for 2024* You will have the option of adding the Resource & Career Fair to your registration through the links below.

MILITARY/GOVERNMENT REGISTER NOW

NON-GOVERNMENT/INDUSTRY REGISTER NOW
*New for 2024* Register to attend the Resource & Career Fair only. You will not be able to attend the Exposition & Symposium with this registration. Please use the above links to register if you would like to attend all events.
ON-SITE REGISTRATION FEES
Exhibitor Attendee: $100.00
Non-Government/Industry Attendee: $295.00

Note: Booth personnel registration is not available on this website. eventPower must receive an exhibit space contract from your company before any exhibit booth personnel can register. After receiving an exhibit space contract, eventPower will send the point of contact who signed the contract an email that contains a booth personnel registration link.

WHAT THE SYMPOSIUM FEE COVERS
The 2024 AFCEA TechNet Fort Liberty Symposium & Exposition registration fee covers costs associated with the administration, coordination and management of the Symposium, such as meeting room rental, audio visual/other equipment, computer and telephone access fees, printing and other administrative costs directly related to running the Symposium. The fee does not include lodging, or entertainment expenses.
VOLUNTEER OPPORTUNITIES
You can receive a complimentary registration if you serve as a volunteer for the symposium. Click here to register as a volunteer and view volunteer opportunities.

CANCELLATION POLICY
If you find it necessary to cancel your registration, you must submit this request via email to: technetfortliberty@support.eventpower.com. You will receive a confirmation of the cancellation via email and your registration fee will be refunded less 25% (if applicable). Cancellation on or after Tuesday, January 23, 2024 will result in your registration fee being forfeited.

REGISTRATION QUESTIONS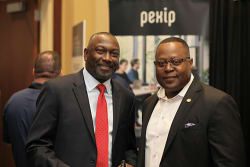 Event Details
Dates
February 21 - 23, 2024

Location
Fayetteville, NC

Sign up for Conference Updates