Base Access
Industry attendees who do not have a military/government ID are required to enter through the All American Gate (5). Please click the link below to view a map and gate location.

All American Visitor Control Center: 3550 All American Fwy, Fort Liberty, NC 28310


GATE HOURS, STATUS, AND LOCATIONS


Proceed to the All American Visitor Control Center to receive a pass. You will be required to provide a driver's license, vehicle registration and proof of insurance. Once you receive your pass, follow the directions below to the Iron Mike Conference Center.

NOTE: Foreign Nationals, please see the last bullet for detailed information with regard to obtaining a post pass.

IMPORTANT POST ACCESS INFORMATION
All vehicles entering the post are subject to search.
In order to gain entry to Fort Liberty, all occupants 17 years or older must have a valid identification.
DoD affiliated or Federal Government ID card holders may access any lane at any ACP with any type of vehicle as long as the vehicle can safely negotiate the ACP.
All uniformed Service members and spouses, DoD employees, and retired uniformed Service Members and spouses can vouch for occupants in their immediate vehicle without showing an Identification Card, provided the Trusted Traveler vehicle operator possesses a valid DoD affiliated identification card.
All other personnel presenting U.S. driver's license or state identification cards may access any ACP as long as they visit one of the two Visitor Control Centers at All-American or Knox Truck Plaza (Commercial Vehicles Only) and process and receive a Visitor Pass. Their vehicle will be subject to search. All Non-DoD affiliated personnel must process for and receive a visitors pass unless accompanied by a DoD affiliated ID Card holder that meet the trusted traveler requirements.
All commercial vehicles must access the Truck Plaza on Knox Street. The Installations definition for a Commercial Vehicle is:
Any vehicle as large as or larger than an enclosed 15-passenger van (not used for passenger transportation) OR any company vehicle pulling an enclosed trailer of any size, and all Civilian Fuel Trucks. This includes U-Haul Trucks, UPS/FedEx delivery vehicles, etc. The only exception to this definition applies to Active Duty Military CAC Card Holders only if the vehicle can safely negotiate the lane at FPCON normal or A.
Foreign Visitor (Any person other than a US citizen) must present a valid passport with visa, and I-94 (Arrival /Departure Record) or an alien resident identification card and must have a valid reason to enter the installation. If you are driving on base, you must present your driver's license as well.

NOTE: International Drivers license are only good with the drivers license from the driver's native country. An International Drivers license is not valid in the country of issuance.

DIRECTIONS TO IRON MIKE CONFERENCE CENTER
1) Leave gate and as you go under Gruber Road Overpass move immediately to your far right hand lane and take the first exit from the All American Expressway to the ramp that goes up to Gruber Rd.

2) Turn right onto Gruber Rd. and stay in the right hand lane. Travel straight for 7/10th mile to the forth (4th) stop light and then turn right onto Reilly Rd.

3) Stay in the right hand lane of Reilly Rd and travel 5/10th mile to the third (3rd) signal which is a Flashing Caution Light.

4) Turn right into the Fort Liberty Conference and Catering Center parking lot on your right --- You Have Arrived!!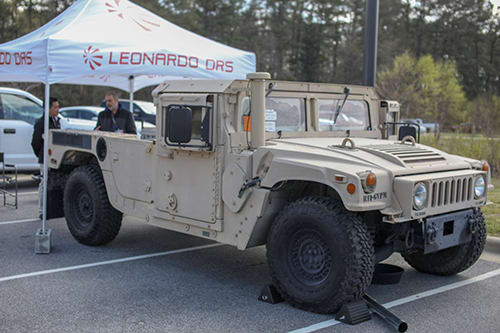 Event Details
Dates
February 21 - 23, 2024

Location
Fayetteville, NC

Sign up for Conference Updates